Hey, it's week two! Today's poetry writing prompt was to write a poem in which something magical occurs. Here's my poem.

​Blind date

​When the stooped grey man
approached me in the bar –
a lady like you
should never be kept waiting –
I'm afraid I laughed,
a bounce-back reflex.
I could accommodate.
I always was trained
too nice.

The tiny particles in me
that agreed with him
lost in the chaos.

In my mind now,
I got up and walked out,
away from the for-TV voices and
flashes of glasses,
my skirt swishing around my knees.
The dirt skidding from my late date's
SUV screaming into the parking lot
spurring me faster
billowing me up
and beyond the tar roofs.
He would never
have seen me anyway
as I disappeared entirely
into the atmosphere.

But in reality
I waited.
It would be years before
I could coalesce the belief:
I was worth
being on time for
after all.

Powered by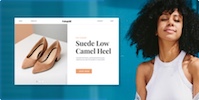 Create your own unique website with customizable templates.